Move seamlessly between TWEN and WestlawNext. Easily adopt Law School Exchange
content for distribution to students via TWEN. Get TWEN features and updates here.
ENHANCEMENT Participant and Usage Tracking - Aggregate Course Activity Report provides a summary tab of course activity by feature. Additionally, you can see activity at the feature level broken down by student.
NEW Sign-Up Sheet - Exporting is now available.
Enhancement Calendar on TWEN and lawschool.westlaw.com has been enhanced to provide an improved calendaring experience.
Video Tutorials:
New Grade Book:
Webinars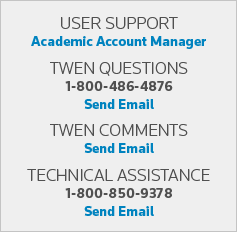 FAQs
TWEN Access
Contact your Academic Account Manager to request a Westlaw password for TWEN.
Guest Password
If you want to be added to an existing TWEN course, request a guest password from the course administrator.
Create a Course
Persons with a Westlaw Faculty password can create courses on TWEN. Students who wish to create courses for school groups or study groups should contact their Academic Account Manager.
Course Duration
A course remains on TWEN until the administrator deletes it. The administrator also can update a course or archive it for future use.